Dog Owners Fall Victim To Inflation As Costs Surge By Almost 100%*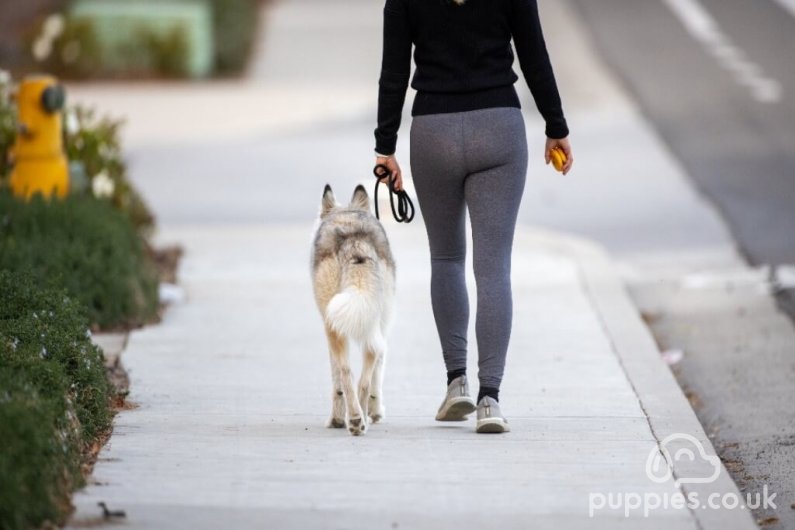 Dog Owners Fall Victim to Inflation as Costs Surge by Almost 100%*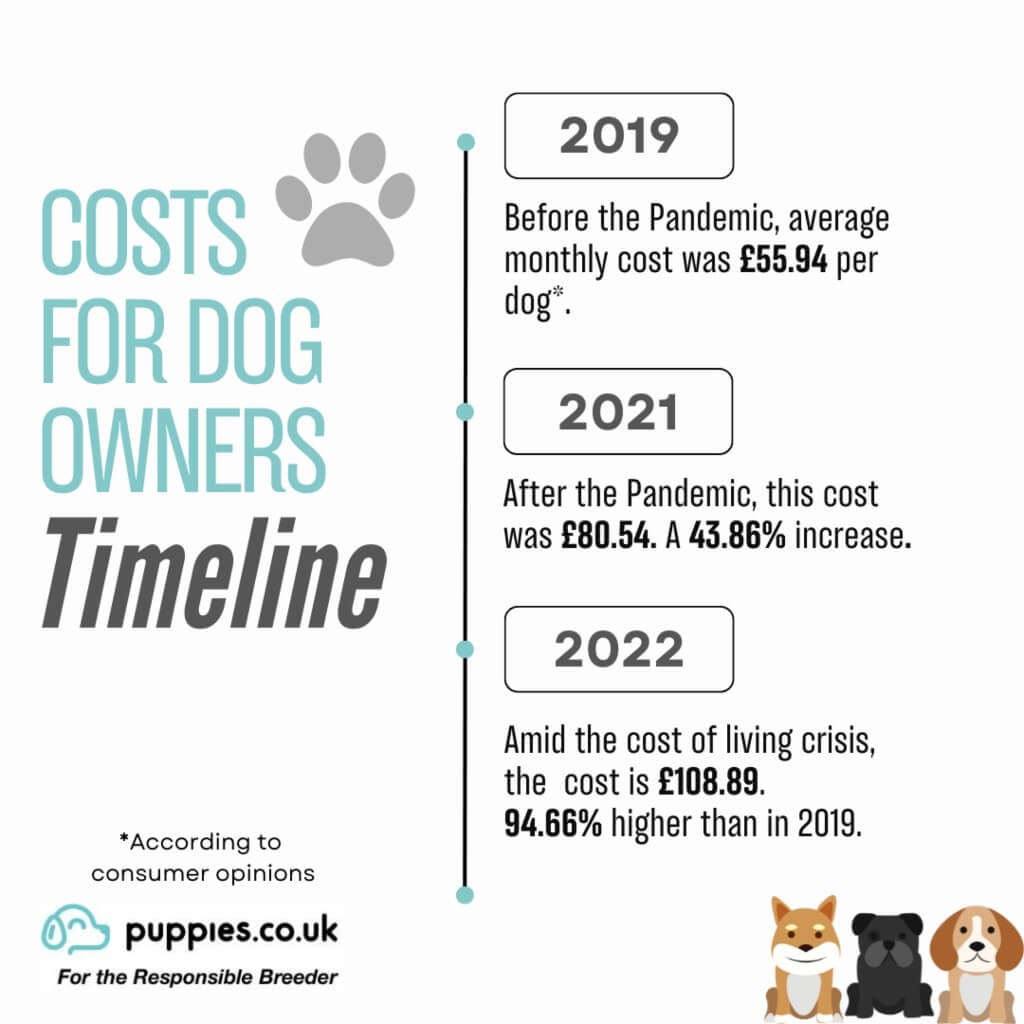 It's no secret that costs have been skyrocketing in just the past three years alone. But the cost of living crisis is not just having a negative impact on food prices and energy bills. It is also affecting our beloved pooches.
From food and treats to routine vet visits and pet insurance, the cost of caring for our four-legged friends has increased significantly. These obligatory outgoings are making it harder to own a pet. In fact, many dog owners have no choice but to cut down on other expenses to keep their pups happy and healthy. Unfortunately, as the cost of living crisis deepens, there has been a 25% increase in the number of pets being abandoned. 
So, how are dog owners coping with the cost of living crisis and what do they expect their costs to look like in the coming months? Read on to get the low-down on the perceived costs reported in a qualitative survey.
Monthly Dog Ownership Costs at a Glance

We asked dog owners who purchased their beloved pooches through Puppies.co.uk whether the cost of owning a dog has gone up in the last three years. Here is their consumer opinion on how monthly costs have changed between 2019 and 202
Perceived monthly puppy costs have risen by 94.66% compared to the same period just before the Covid-19 pandemic

The cost of owning a pup is reported to have increased to £108.89 per month

The highest perceived monthly costs are in the South East, with owners paying an average of £191.87 to take care of their furry friends
The Biggest Changes in the Cost of Owning a Dog
You have probably noticed that your wage slip is not going as far as it used to. This may even be preventing you from providing your pup with the life of luxury they deserve. But which areas have seen the biggest jump in perceived monthly costs? Let's take a look at the regions hit the hardest by our consumers' opinions.
1. South East
The South East has reported the most drastic changes in ownership costs. In 2021, nine towns in the South East were named as some of the most unaffordable areas to buy a home in the UK. And, while the South East has long been seen as an ideal place to live, could inflation eventually end up pricing dog owners out of the area?
According to dog owners, monthly expenses have increased by 138% since October 2019. The average perceived cost per dog per month has doubled, from £80.66 per month to £191.87.
2. Scotland
Scots say that dog ownership costs will probably set them back by £1,265.16 every year. In Scotland, the estimated cost of looking after your furry friends has increased by 98%, rising from £53.18 per dog per month before the Covid-19 pandemic to £105.43 this October.
3. East Midlands
Rounding off the list is the East Midlands, with people reporting a 78.27% increase in monthly costs between October 2019 and October 2022. Before the pandemic, owners estimated that they paid an average of £47.46 every month to take care of just one dog. Fast forward to today, owners are expecting to pay £84.61 per month per pup.
The Regions Least Affected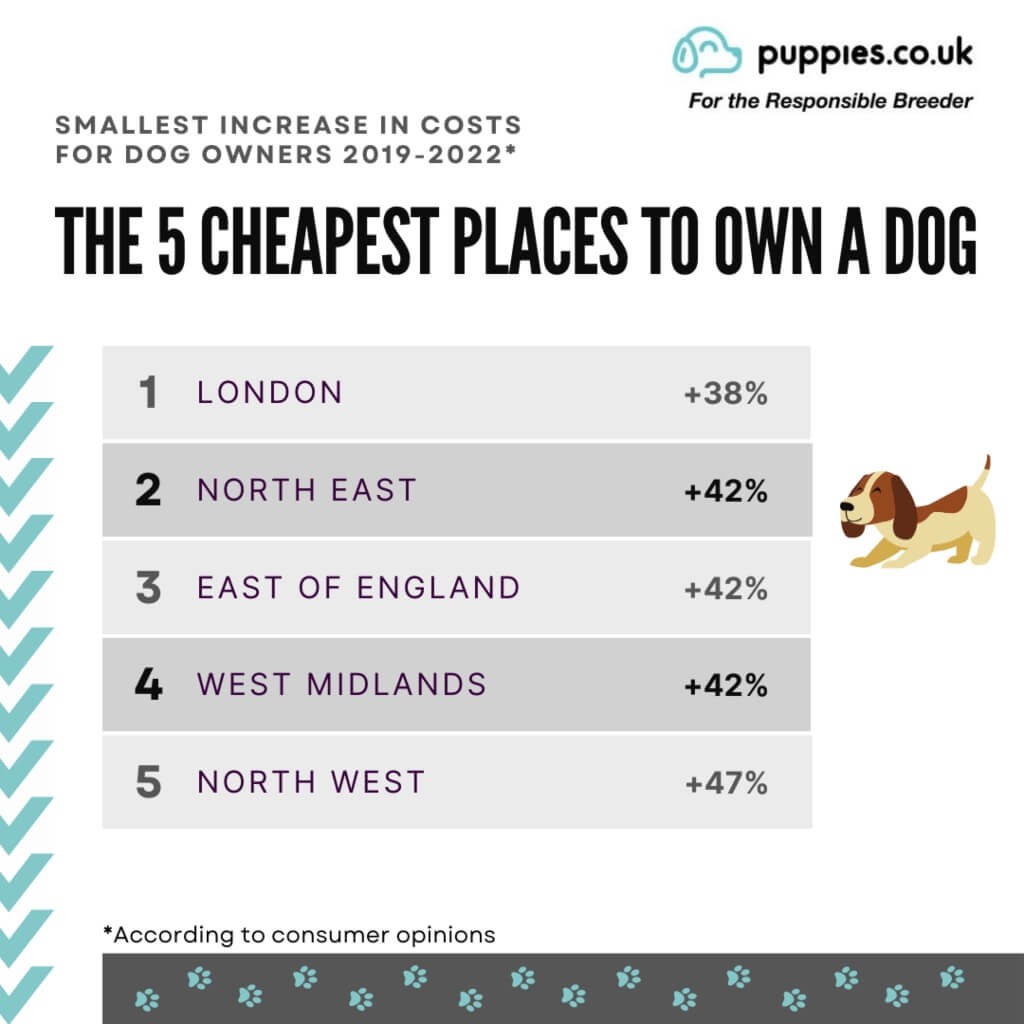 The good news is that not every region is at the sharp end of the cost of living crisis. Here are the areas where dog owners are struggling the least with rising bills for their dogs, according to our consumers.
1. London
London takes the title as the region that has been least affected by rising costs. Since 2019, Londoners have reported a 38% increase in perceived costs. 
2. North East
Those in the North East have only estimated a 42% increase in expenses, making it the second region that has been least affected over the last three years.
3. East Of England
Similarly, in the East of England, dog owners also reported a 42% perceived increase in expenses, making it the third region that has been least affected.
The Impact of the Pandemic on Dog Owners: 2019 - 2021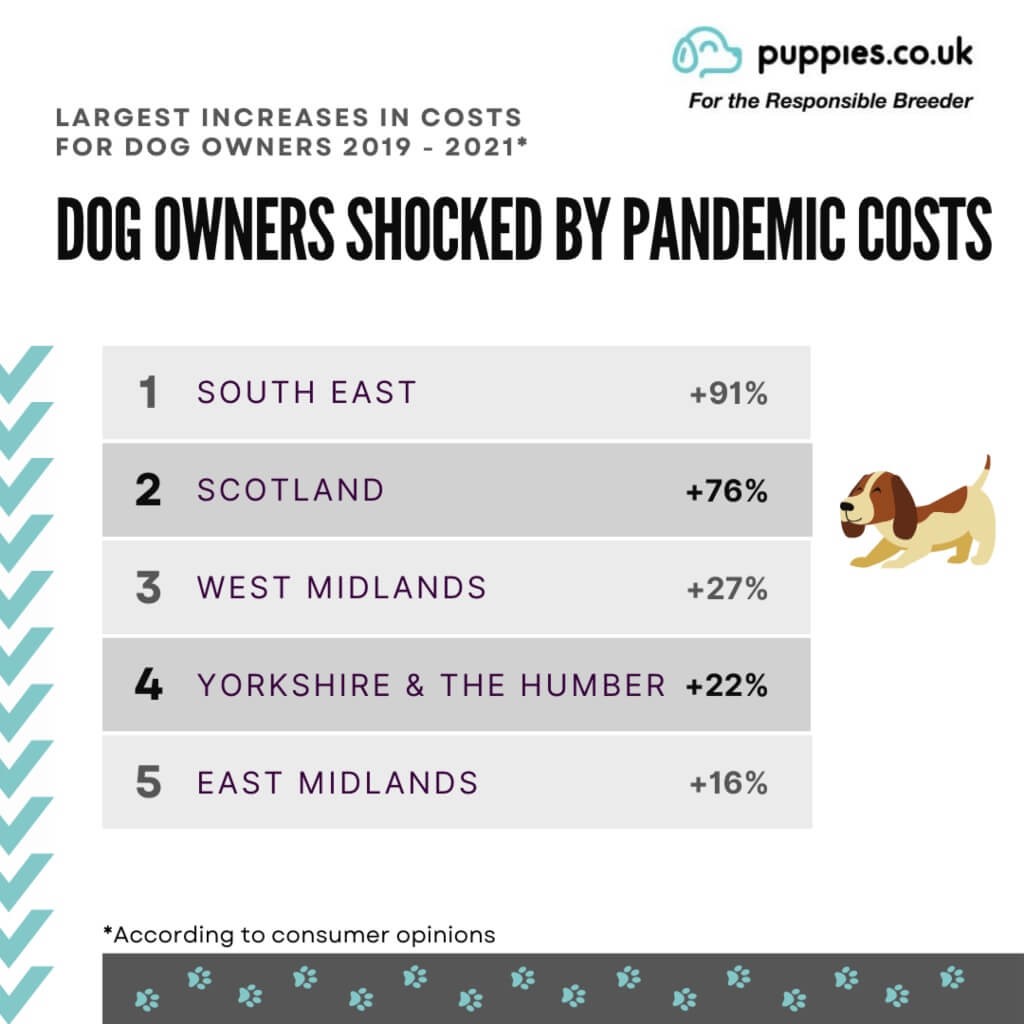 Britain has always been a dog-loving nation. But since the start of the pandemic, demand for pups has increased drastically. With everyone encouraged to stay at home to reduce the spread of Covid-19, finding time for a pup was suddenly possible, even for those with the busiest working schedules. 
Recently, though, we have seen a lot of press about pandemic pooches sadly being abandoned. With the 'Return to Work' campaign encouraging us all to go back to our pre-pandemic ways,  suddenly owning a dog was no longer possible. But what about the dogs that do not make the headlines? How did Brits who previously owned a dog make it through the pandemic?
In the South East, our consumers reported that their monthly costs increased by 91.07% between 2019 and 2021. Similarly, dog owners in Scotland were hit quite hard, with perceived expenses increasing by 76% in 2021.
The good news is that the rest of the UK was not affected as much between 2019 and 2021. The third highest increase was reported in the West Midlands, with costs only rising by 27%.
The Cost of Living Crisis and Dogs: 2021 - 2022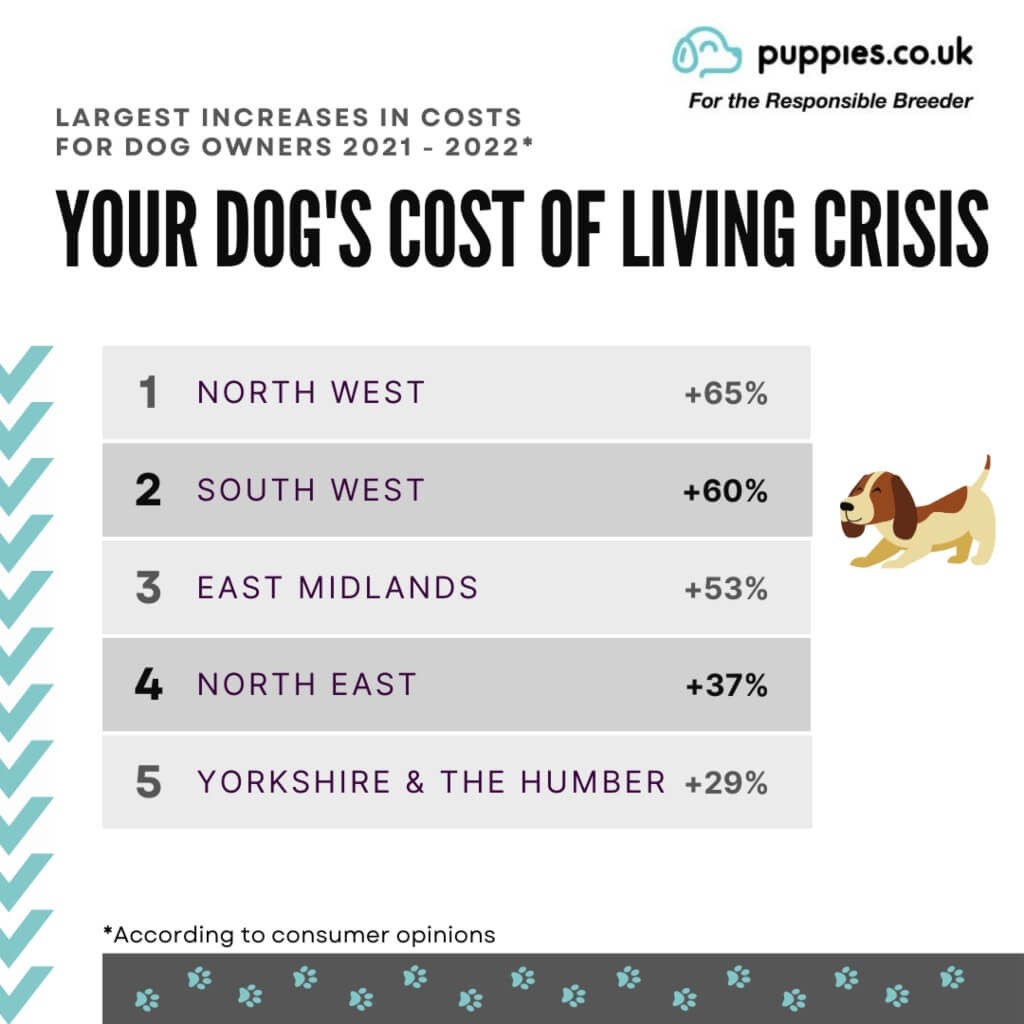 Our survey reveals that some areas have been hit harder by the cost of living crisis than the pandemic. For example, the North West has experienced a significant increase in perceived expenses between 2021 and 2022. According to dog owners, costs have increased by around 65%.
While estimated monthly costs decreased by -5% in the South West during the pandemic, the cost of living crisis appears to be making it less affordable to own a dog in this area. Since October 2021, dog owners in the South West say they have seen their monthly costs increase by around 60%.
Likewise, while the pandemic only had a small impact on the East Midlands, it is also becoming less affordable to own a dog in this area. Over the last year, dog owners in the East Midlands say their perceived monthly costs have increased by 53%.
Scotland, the West Midlands and London make up the areas least affected by the cost of living crisis in the last year. Scots say their dog bills have only increased by 12% this year while those in the West Midlands report a similar rise of 14%. Londoners, on the other hand, say their monthly costs have increased by 20% throughout the past year.
Is 2023 a Good Time to Own a Dog?
You should not decide to get a dog without thinking about it carefully first. It is important to think about the cost of getting the dog, but also the monthly expenses and long-term costs.
Many dog owners are doing everything they can to ensure their pets do not feel the pinch. Some are even shouldering the burden, making sacrifices where they can to ensure their dogs do not get a raw deal. Corrine Singleton takes her two dogs for a walk around the Lake District every day and is determined that her dogs' lives will not suffer as a result of the cost of living crisis.  "They are my responsibility and I take their health and happiness very seriously," she says. "I now only heat one room of my house and we all live in my bedroom most of the time."
"It's more important that my dogs are well-fed and well-cared for than heating the entire house."
"I do worry about them sleeping in their crates in the utility room as the cold is causing mould on the walls," she admits. And, Corrine is not alone. Countless owners are struggling to maintain their dogs' standard of living. Dog food is arguably one of the biggest monthly expenses for any owner. If you are looking to cut back on costs, it may be worth investing in dog measuring cups. This can help you ensure that you are not overfeeding or underfeeding your pet whilst saving money on your dog's food bill.  If you are struggling to feed your pooch, there are a host of local pet food banks you can go to for help. These include:
Now you are aware of the financial considerations you need to make, our network of reputable breeders will be happy to provide you with even more money-saving advice that will make looking after your dog a walk in the park. To get in touch with one of our breeders, explore our listings today.
Methodology
Dogs are more than just pets. Many of us develop close and enduring bonds with our pooches and care for them deeply. However, the impact of the cost of living crisis on people's ability to take care of man's best friend has largely been overlooked. That is why we at Puppies.co.uk asked our customers how much they thought the monthly cost of owning their dog had increased between 2019 and 2022 to raise awareness about the true impact of inflation. The survey was sent to more than 26,000 buyers and breeders registered on our platform. 
We calculated the average monthly cost for each region in 2019, 2021 and 2022. We then calculated the percentage increase to show the perceived total cost of pet ownership change over time.
The survey involved 5 questions: 
Which region are you from?

Is the cost of owning your pet higher or lower than before the pandemic?

Cost per month per pet in October 2019 (£s)

Cost per month per pet in October 2021 (£s)

Cost per month per pet in October 2022 (£s)
*The figures presented are based on the observations in a survey of puppies.co.uk customer and client base.
Subscribe to our newsletter